The fact that more and more visitors are choosing to travel to Kiruna means that we must place higher demands on sustainability in the industry. We who work in the tourism industry have a shared responsibility to ensure that our attractive Arctic lifestyle are preserved for generations to come and that increased tourism does not lead to the disappearance or destruction of what is the reason for our visitors.
Our goal is to find a balance where tourism contributes to an improvement of social and economic conditions, whilst environmental, natural and cultural values are preserved. In order to make this vision a reality, sustainability has to be a natural core tenet of Kiruna's tourism strategy. With the goal of providing tourism companies with the tools they need to grow and develop in a sustainable direction, Kiruna Lappland have developed a sustainability programme known as "Sustainable Arctic Destination".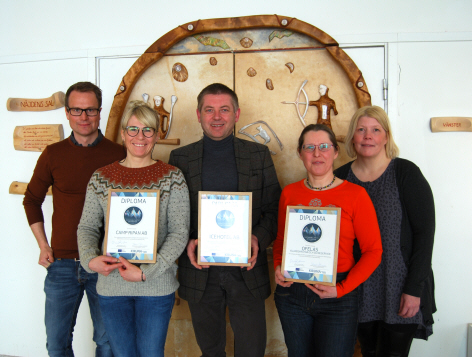 First companies certified with Sustainable Arctic Destination – March 2018:
Camp Ripan AB, ICEHOTEL AB, Ofelas Icelandic Horses and
Nutti Sami Siida (not in this picture).
Read more about Kiruna Lapland's certification of a sustainable destination
Sustainable Arctic Destination