Welcome to Camp Ripan – at the heart of Kiruna
Kiruna has just about everything, from a majestic mountain landscape to exciting architectural history, from the midnight sun to Northern lights, from snowy winter dog sled tours to Summertime Icelandic horseback riding tours, and everything in between. We want to give you the very best Kiruna has to offer as far as adventures, opportunities and experiences goes – right when you decide to visit us. Browse through our wide choice of activities that you can find here.
Camp Ripan is a family-owned company and we are passionate about highlighting everything that makes the northernmost part of Sweden so fantastic: the meeting of the different cultures, the majestic nature and the availability of local wild produce that become delicious experiences in our kitchen. Together with well thought-through design and materials we wish to tell stories about this place and the culture around us, while also preserving it for future generations.
After an entire day outdoors, what could be better than relaxing in ourAurora Spa and letting the day's activities slowly melt away as you pamper yourself with a relaxing sauna bath, foot bath, beneficial spa products and a refreshing dip in the pool? Take advantage of rounding off the evening in our restaurant, Ripan Kitchen where the fantastic regional fresh produce is transformed into delectable culinary experiences.
We also look forward to having you and your colleagues as conference guests. We believe that a successful meeting has long lasting effects, we wish to create the best conditions for those effects. Here you and your colleagues will find an establishment where you are comfortable and able to be inspired by not only the countryside but also the people who stand ready to move an entire city. Read more about what we have to offer at conference at Camp Ripan.
All of this and so much more is what you will find at Camp Ripan. When we built this fantastic place to what it is today, we all agreed on one thing – to dig where we stand and focus on the best Kiruna has to offer. And that is the principle that influences every aspect of our operations and is the foundation of how we think as far as our sustainable work, décor and design. We didn't want our establishment to look like a hotel you find everywhere else in the world, we wanted an expression that captured the spirit of Kiruna. It is from the three cultures of Kiruna – the Swedish, the Sami and the Torne Valley Finish – intertwined with nature's own richly contrasting colours and shapes that we have found our inspiration.
Design, décor and choice of materials always instil a sense of purity and simplicity, reflecting the nature, culture and atmosphere of this mountain city. The main building's high panorama windows offer wonderful unobstructed views, similar to the open mountain landscape that allows your eyes to rest on the far–off horizon. Appropriately placed at the centre of our grand entry hall is an open fireplace. The warming, life–giving and mesmerizing fire created the conditions for our forefathers to survive in this often quite harsh Sub–Arctic environment.  One can say that every place has its soul and the community of three cultures we live in is indeed our soul. We have dug where we stand.
We are a hotel, but a rather unusual one. Kiruna municipality covers a great deal of land, so there is plenty of room to build outwards instead of upwards. This is why our beautiful and comfortable hotel rooms are cosy cabins with private entrances. Quite simply your own private oasis close to all the amenities.
When you stay at Camp Ripan we want you to feel at home despite being away. We are an oasis in an expansive city. The mix of people, cultures and interests also contributes to an exciting and unpretentious atmosphere at Camp Ripan. Welcome to take a look in our brochure, to get a summary of what we can offer you.
We wish you a warm welcome to us
Dennis, Frida and Camp Ripan staff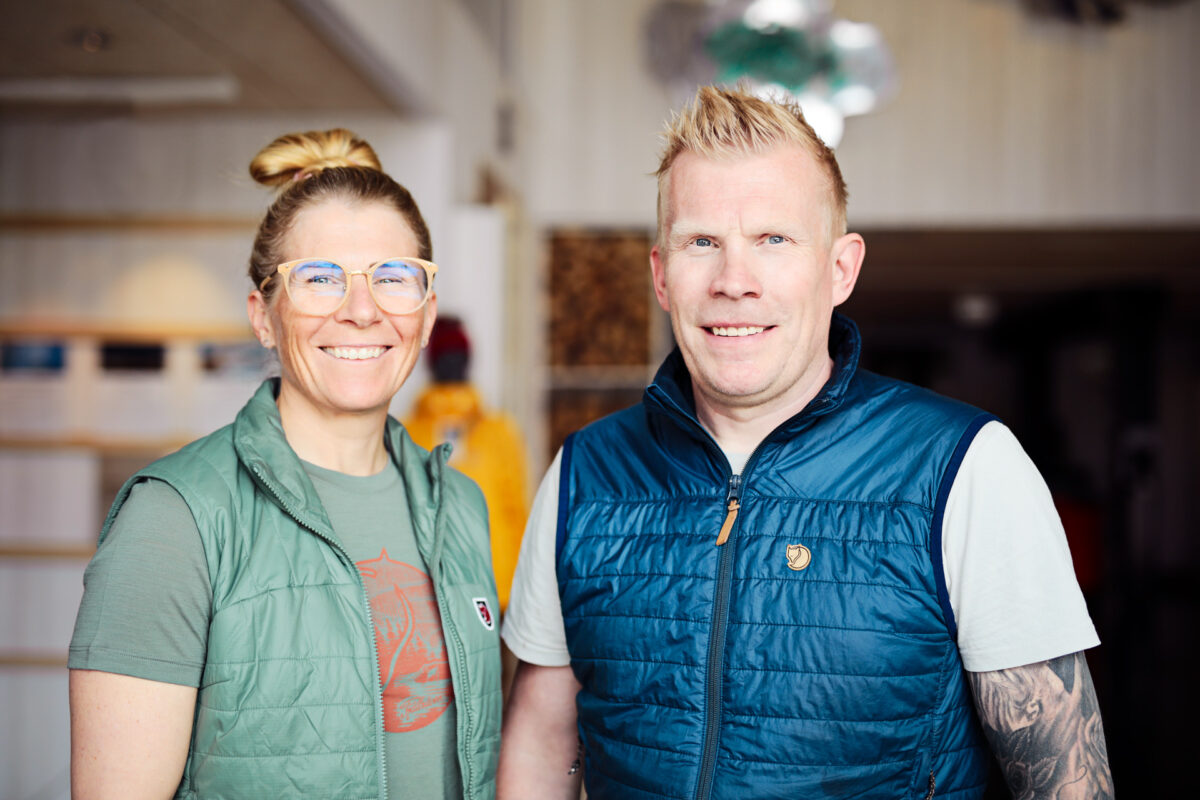 Our three cultures are our inspiration.