We want to preserve our Lapland food culture
As the world becomes more global, we at Camp Ripan take pride in ensuring the use of our local produce and traditional culinary skills as we consciously refine our dishes to suit today's tastes. We follow old recipes that are seasoned with new influences from around the world. For us, the traditional Lapland kitchen is well worth preserving, developing and naturally enjoying!
Food should do good, from source, to the table and to you
We choose seasonal local resources
Autumn means filling our pantry for the winter. We pick berries, mushrooms and herbs that are then dried and frozen. In September we fill the freezer with as much moose meat as we can from from the autumn hunt, so our King of the Forest lasts a bit longer on the menu. Eating with us always means Swedish and often local meat, and is therefore a subject to availability. 
Darker days bring darker tastes – when the polar night begins, we switch to our winter menu. Root vegetables, cabbage and onion are in season, a rich base paired with local reindeer and moose, herbs and red wine.  
With the season of the midnight sun our menu has a lighter tone with fresh Swedish vegetables and locally sourced fish from our pristine mountain waters.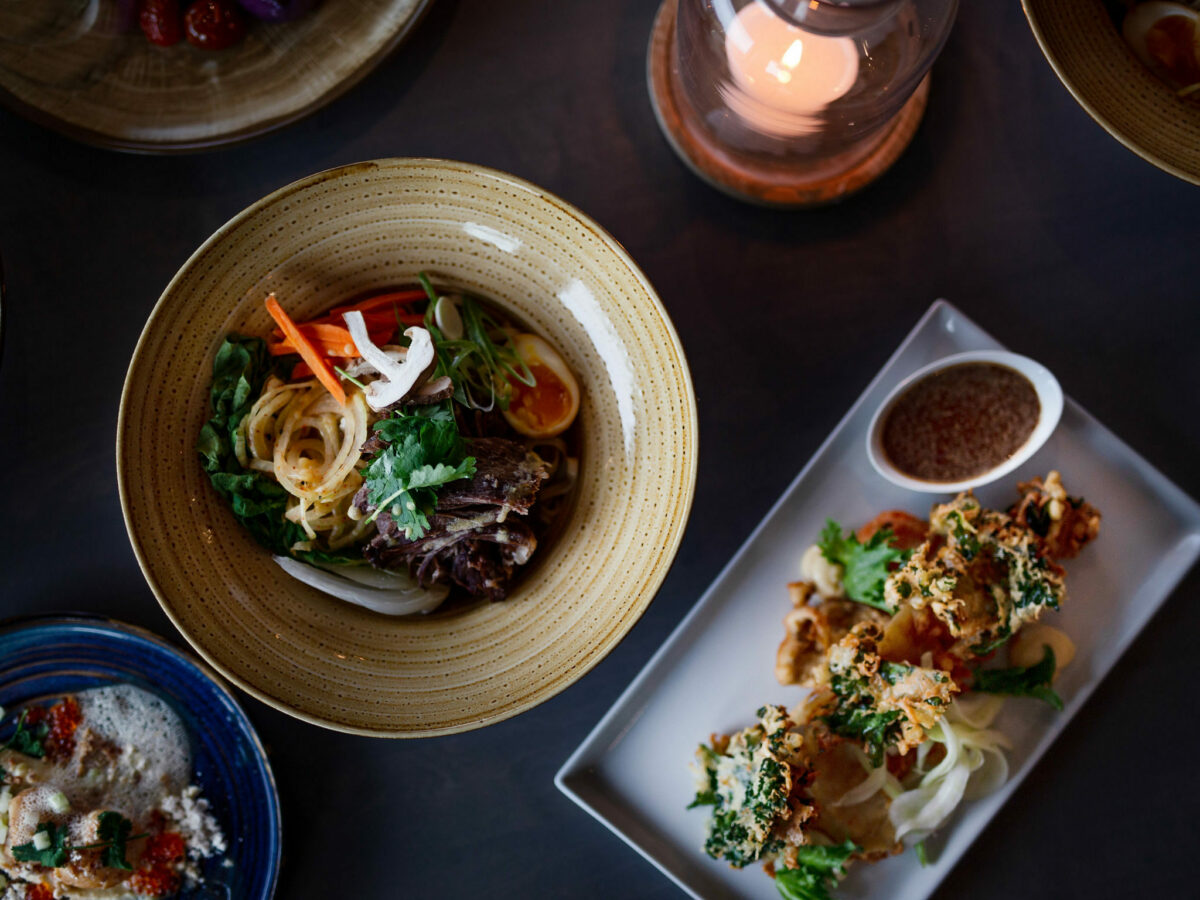 Slow-cooked ramen on reindeer
We make use everything edible
We take care in using the entire animal, preparing nearly everything from cheek to tail! For fish, we use more than just the fillet – preparing bullion from the bones and even having cod cheek on the menu. We slow cook leg of reindeer, birch-smoke the fillet and prepare traditional blood pudding using reindeer blood. Lichens are picked during summer, then parboiled and pickled to finally be fried and used for added texture in different dishes.  
We
favor
local producers
We choose local raw produce as far as possible, when available. We purchase our wild meat from Torneus Renprodukter and Stenbergs Vilt, both based in Kiruna. We also purchase wild foul from local hunters. This year we have bought 200 kg berries from our own staff who spend their free time out on the cloudberry marshes and in lingonberry forests. We buy the world's northernmost commercially grown mustard seed from dairy farmer Per Pesula in Kukkola, Tornedalen. The Pesula family runs an eco-farm with dairy cows, mustard seed and rapeseed oil production. This farm is just one example of the many producers from which we buy our raw produce. 

Reduce food waste
We work hard to reduce the amount of food waste in our restaurant. We serve lunch by plate instead of as a buffet, and for Christmas we have an alternative Christmas menu instead of the traditional Christmas buffet. In the restaurant you are always welcome to take home your leftovers. All surplus organic food waste is composted in our modern composting machine.  
We choose

organic

or biodynamic wines 
Our wines are chosen from European wineries who work for long-term sustainability. Most producers pick grapes by hand, and even some of the grapes are crushed by foot! The wines on our menu are either organic or biodynamic. Organic wines are produced without artificial fertilizers and other toxic substances. Biodynamic production is about a balance at the winery, a cooperation between soil, plants, animals and people. The work at the winery is steered by how the sun, moon and planets stand in relationship to one another.   
Locally produced beer
All of our beer in produced in Sweden, the greater part of our beer assortment is supplied by local Kiruna breweries. 
---

We

are

a

Slow

Food

Sápmi

premierad restauran

t
"The restaurant at Camp Ripan in Kiruna uses the local ingredients in all its cooking. The cuisine is based in the three cultures that come together in the city: Sámi, Torne-Valley Finish and Swedish. Influences from across the globe are then added making for an exciting culinary experience.  
Camp Ripan offers both lunch, dinner and special dining and culture experiences. Amongst these experiences there is a Sámi evening where the stories of Sápmi are told in words, pictures and food.  
The ingredients are considered highly important and Camp Ripan takes great pride in knowing where the reindeer grazed, the fish were caught and the mushrooms picked. The result is a restaurant where every meal is a story and an experience, as one can expect from a premiered Slow Food Sápmi restaurant."