Nature is a source for recreation and well-being, which has always been a natural relationship for us at Camp Ripan. When we began planning our spa, our direction was clear, we envisioned a spa built upon that we find in our environment – wood, stone and water. These materials stand for warmth, coolness and life-giving, but also materials that are part of the natural elements of our Lapland nature, communities and cultures. Our choices are as natural as that – we use furniture made from sustainable natural materials and many of our interior design elements are made by local craftsmen and artists.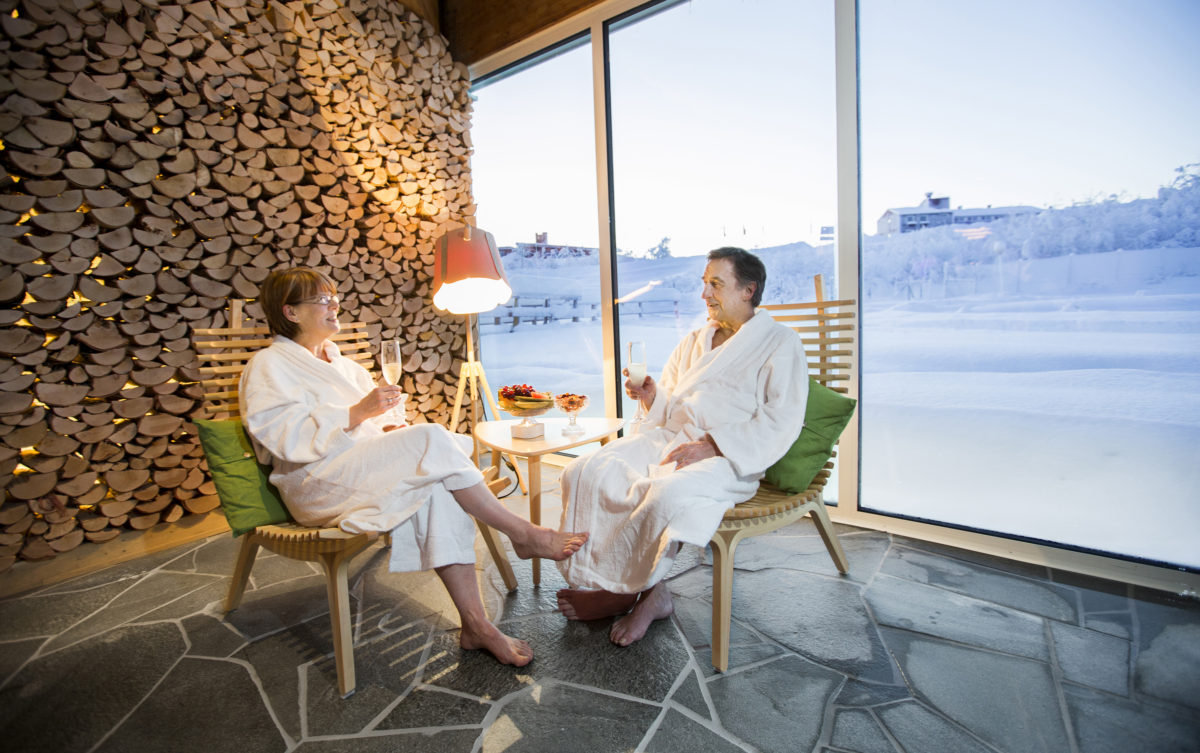 Natural treatments – The Spa ritual Stävan
Our treatments at Aurora Spa are based on ancestral Swedish, Sami and Tornedalen healing traditions. The products in our spa ritual pail all contain natural ingredients and are free from preservatives. We produce many of the products ourselves, such as our home-made birch leaf scrub. When the birch leaves sprout, we go out and pick the leaves and make a refreshing scrub of leaves, oil, lemon and salt.
The foot bath uses natural iron ore pellets from our local mine. We sanitize and reuse are pellets after each treatment. Even the packages/jars used in the spa ritual are cleaned and reused. Our stimulating coffee mask is made using eco-coffee grounds, which would have otherwise been composted. The steamed grounds are mixed with eco Fairtrade cocoa, oatmeal and canola oil. We know the coffee mask also tastes great – it is perfectly edible!

Organic locally produced
Our Aurora Spa bar serves biodynamically-grown wines, the thirst-quenching beer is either locally produced or Swedish eco. Even our snacks are eco-friendly, all meat products are Swedish, wild reindeer and moose. All organic waste is composted and used as fertilizer to grow new produce. We have a plan to build a greenhouse adjacent Aurora Spa, where we can grow new produce using the fertilizer from our organic waste.
Towels and robes are transported together with the mail lorry to a Swan-labeled eco-certified laundry. This duel use of transport eliminates the transports by half, which would not be possible if we used our own lorry.
We work together with the Swedish brand Care of Gerd, eco-friendly skin and hair products from Jokkmokk.
"Sustainability is not just about conserving our resources, it is also about making use of that we have in our beautiful environment! "