Since time immemorial, the Sami people have prepared food using that which the mountains, lakes, rivers and forests had to offer. When the farming pioneers arrived, their crops and domesticated animals were included in what the region offered. Over the centuries, the best of both kitchens has resulted in this region's traditional fare. Food should quite naturally be an experience for every sense. Our subarctic wilderness provides a rich abundance of wonderful raw produce, something we really appreciate and wish to offer you as our guest.
Let us take you on a gastronomic journey of tastes in our Lapland pantry!

A culinary meeting with the three cultures
Camp Ripan invites you to culinary evening to experience Kiruna's three cultures- the Swedish, the Sami and the Tornevalley culture.  These three cultures is what influences us in everything we do, in particular in our kitchen. This evenings menu will represent Kiruna an our Arctic lifestyle. It is based on fantastic local produces that reflects the eight seasons of Lapland.
We warmly welcome you to a journey through gastronomical and cultural tastes.
The price includes: Four course dinner and welcome drink (alcohol free). Please note any allergies at the time of booking. A wine package that complements the meals can be purchased.
Price: 995 SEK/pp
Price: 1420 SEK/pp including a wine package
Book: bokning@ripan.se +46(0)98063000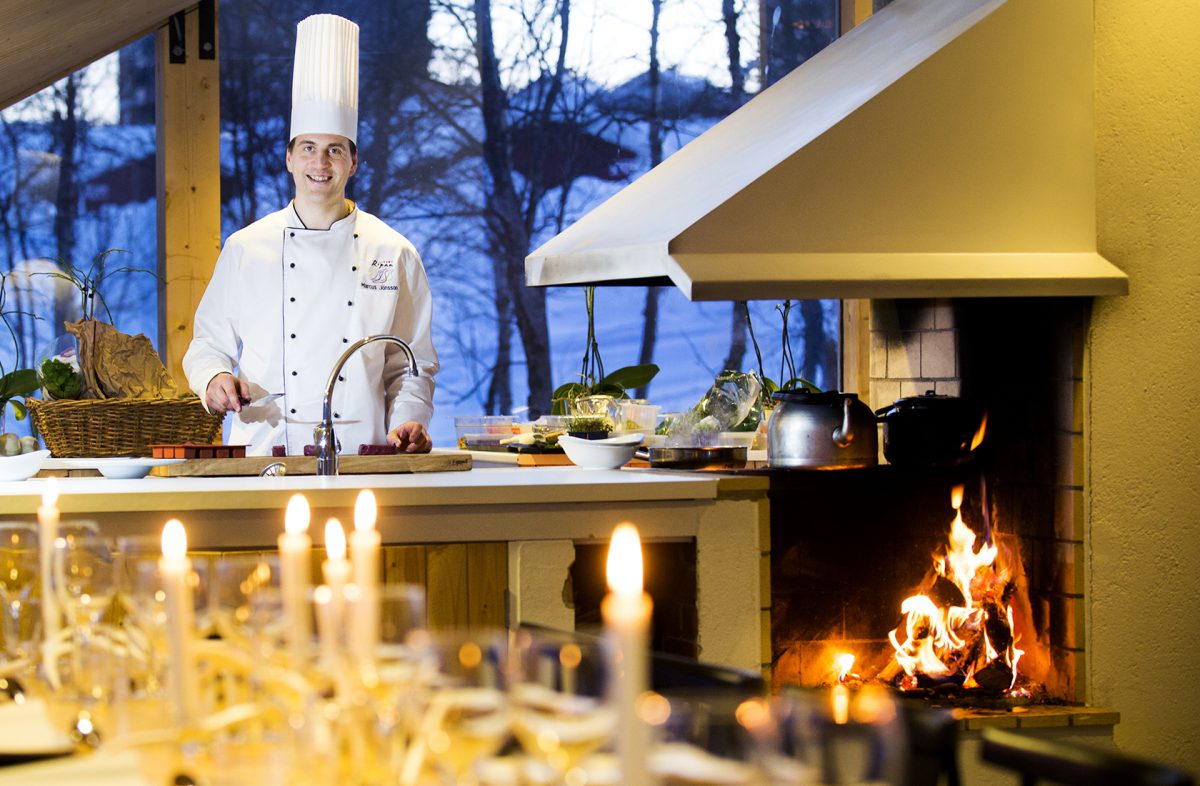 Cooking evening
Your group gathers for an afternoon in Andrummet and is guided in an introductory cooking evening inspired by the Norrland kitchen. The group is guided by an expert cook who will acquaint you with the food and culture that has evolved here through many generations. You will together prepare selected parts of the meal to be served that evening.
Following the evening, you will have the opportunity to relax in your rooms before the evening's highlight. This will be a three-course gourmet meal accompanied by a carefully coordinated drinks package. The menu is composed of the very best of wild produce harvested from our forests, lakes and rivers in this northernmost region of Scandinavia.
As you dine, your waiter will tell you about the particular wines chosen for each course. You will take with you our knowledge of food and drink, and hopefully be inspired in you daily life. At the closing of the meal, traditional boiled coffee will be prepared directly over the open fire and our conversation revolving around food and culture can continue until long into the night…
Price: 2 164 SEK/person excl. VAT
Price: 2 470 SEK/person incl. VAT
The price includes: A welcome drink with appetizers, suitable drinks to the food, chef, recipes, and lots of knowledge and lots of laughter …
Numbers of participants: Groups of 7–15 people
Book: bokning@ripan.se +46(0)98063000
Read more here: Cooking evening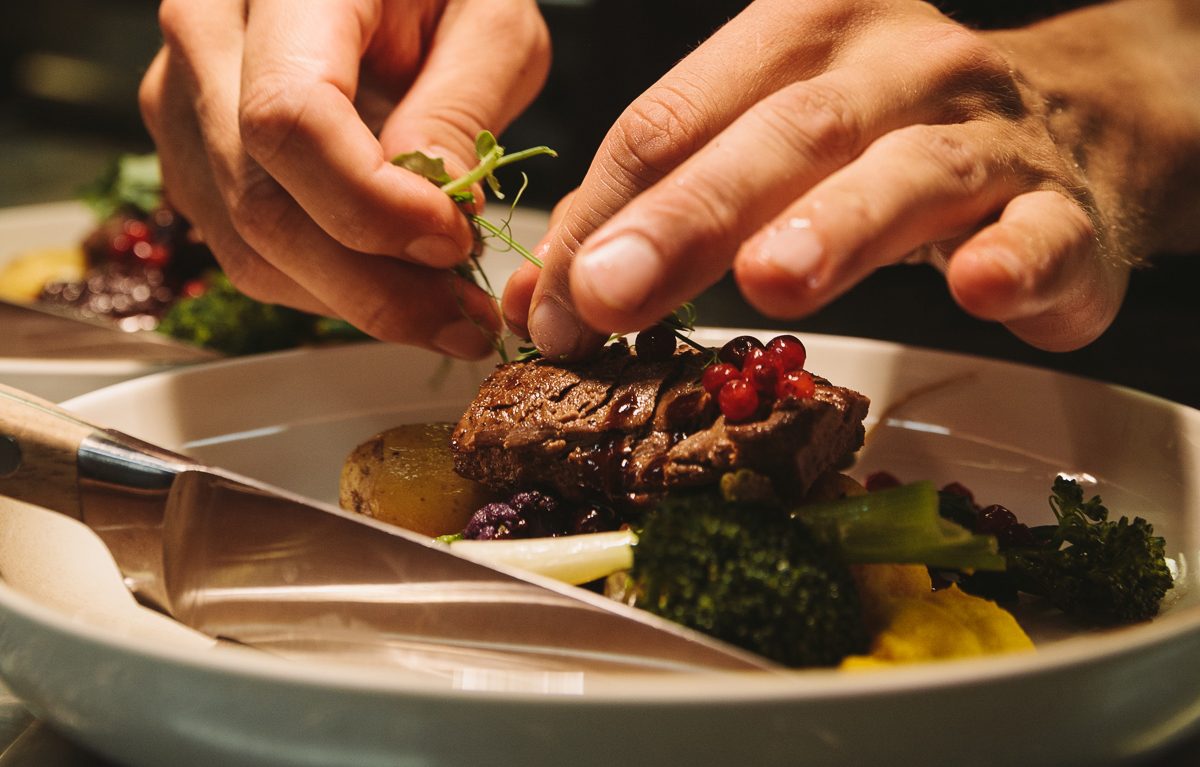 Cooking evening in the Lapland kitchen
Learn the secrets of professional cooking with the season´s finest local produce.
Welcome to an inspirational evening with cooking in Camp Ripan's new eco-smart kitchen! Together with our professional chef you will be guided in preparing a delicious three-course dinner using the season's finest raw produce from our forests, rivers and lakes. 
During the evening, chef shares with you the story of the food and culture that evolved in this northernmost Lapland down through the generations, spiced with useful tips in the kitchen. In addition to preparing the meal, you will also learn how to present the dishes nicely. We will lay up the delectable food to be a delight to the eye! This evening also teaches sustainable cooking, knowledge about our local raw produce and cooking tips that we hope will inspire you in your own cooking. The evening is rounded off by sitting down together to a relaxing three-course dinner, enjoying the dishes you have prepared yourself! 
Price: 1116 SEK/person excl. VAT.1250 SEK/person inc. VAT. minimum 5 persons.
The price includes: 3 course dinner, recipes and apron, chef´s guidance. Drinks are not included.
Number of participants: Minimum 5 people. Less then 5 persons, on request.
Departures: September- May
Book: bokning@ripan.se +46(0)98063000