Time for relaxation
Live close to the nature in a private cabin with hotel standard – a private oasis with full service, relaxation and activities. Enjoy unique gastronomically experiences in our well-reputed restaurant. Relax at Aurora Spa – a spa experience for all our senses. Welcome to feel good at Camp Ripan!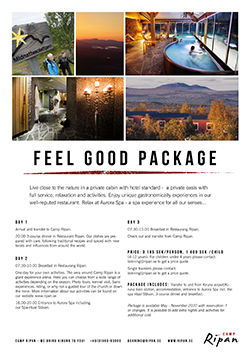 Read more about our Feel good package here!
Price: 3 185 SEK/person, SEK 1 400 SEK /child
Feel good package includes:
Aurora Spa with spa ritualen Stävan
3 course dinner
Accomodation
Transfer
Package is available May – November 2020 with reservation for changes.
It is possible to add extra nights and activities for additional cost.